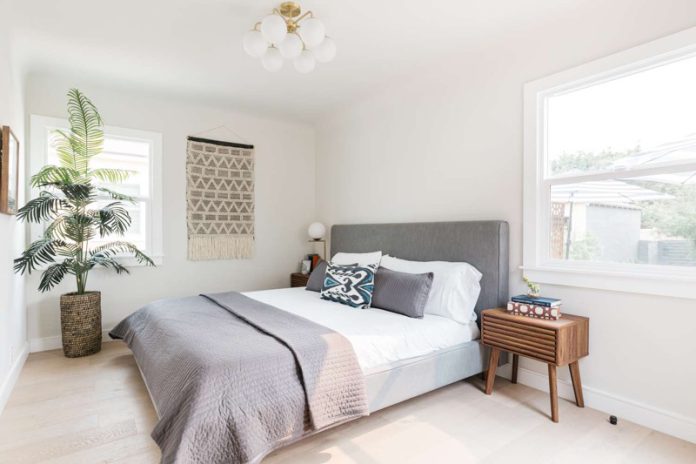 Creating a comfortable and welcoming guest room is an excellent way to accommodate visitors and make them feel at home. Whether you have a dedicated spare room or need to repurpose an existing space, designing a guest room with all the amenities (don't forget a bottle of sweet wine), can ensure a memorable and enjoyable stay for your guests. In this article, we will explore the key elements and considerations to transform a spare room into a luxurious guest retreat.
The first step in crafting a guest room is to carefully select the right furniture. A comfortable bed should be the focal point, ideally a queen or king-size with a high-quality mattress and plush pillows. To enhance the sleeping experience, provide a variety of blankets and pillows to cater to different preferences. Additionally, consider adding a bedside table with a lamp, providing a convenient spot for reading or charging devices.
Storage is essential in a guest room to allow visitors to unpack and feel organized during their stay. A spacious wardrobe or dresser with ample drawer space will enable guests to store their belongings conveniently. Consider including some empty hangers and an area for suitcases to ensure easy access and a clutter-free environment.
Next, pay attention to the aesthetics and ambiance of the guest room. Choose a calming and neutral color palette to create a serene atmosphere. Soft, muted tones such as pastels or earthy hues can evoke a sense of tranquility. Additionally, incorporate artwork, mirrors, or decorative elements to add visual interest and personality to the space.
To make the guest room feel like a home away from home, provide amenities that cater to your visitors' needs. A mini-fridge stocked with bottled water and snacks is a thoughtful touch, allowing guests to satisfy their hunger or thirst without needing to venture into the kitchen. A small coffee station with a coffee maker, mugs, and a selection of teas and coffees is also appreciated, ensuring guests can enjoy a hot beverage at their convenience.
To ensure a comfortable stay, it is crucial to consider the temperature and lighting in the guest room. Install blackout curtains or blinds to allow guests to control the amount of natural light entering the room. Additionally, provide a fan or a space heater to cater to different climate preferences. Offering a variety of lighting options, including bedside lamps, overhead lighting, and a desk lamp, allows guests to adjust the ambiance to their liking.
An often-overlooked element in guest rooms is technology. Equip the space with essential gadgets such as a television, Wi-Fi access, and a charging station for electronic devices. Additionally, provide clear instructions on how to connect to the Wi-Fi network and access any entertainment systems available.
Lastly, don't forget to create a dedicated area for guests to relax and unwind. A cozy reading nook with a comfortable armchair, a selection of books, and a soft blanket invite guests to enjoy some downtime. Adding a small desk or workspace can also be beneficial for guests who need to catch up on work or respond to emails during their stay.
In addition to the aforementioned elements, there are a few extra touches that can elevate your guest room to the next level of luxury. Consider adding a small seating area with a cozy sofa or armchairs, allowing guests to relax or engage in conversations privately. A well-stocked bathroom nearby with fresh towels, toiletries, and a luxurious shower or bathtub can provide a spa-like experience.
To add a personal touch, include a welcome basket filled with snacks, toiletries, and local information, showing your guests that you've gone the extra mile to ensure their comfort and enjoyment during their stay. By combining these additional features with the essential amenities, you can create an unforgettable guest experience in your home.
In conclusion, designing a luxurious guest room with all the amenities requires careful consideration and attention to detail. By selecting comfortable furniture, incorporating storage solutions, creating a serene ambiance, providing essential amenities, and considering temperature, lighting, technology, and relaxation areas, you can transform a spare room into a welcoming retreat for your guests. Remember, the goal is to make visitors feel pampered, comfortable, and right at home.