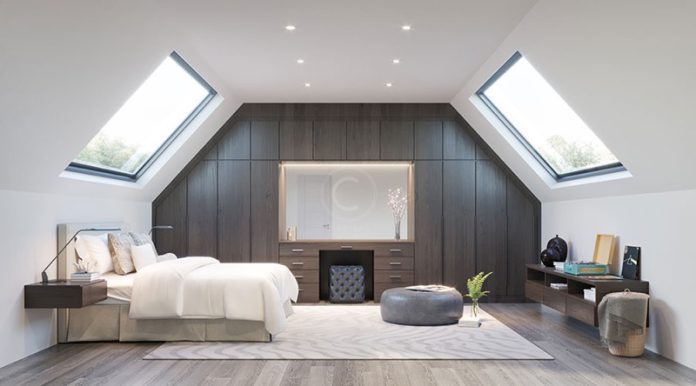 If you are the head of a growing family and you are in need of extra living space, a loft conversion might just be the perfect solution. Why go to the trouble and expense of building an extension when you can make good use of the empty space in the attic? This is the cheapest way to add living space and the extra room can be utilised in many ways. If you live in a large property, you could partition the middle and have two rooms, otherwise a single room is fine.
No need for planning permission
One of the advantages of converting your loft is you don't need to apply to the local authorities for planning permission, as you are not extending the building lines. This is a project for a small local builder, who would have a wealth of experience in designing and building attic conversions; he can handle the entire project from blueprints to handover. If you are looking for a builder with loft conversion experience, your local emergency electrician would certainly have an association with a local builder and he can put you in touch.
Skylights & extractor fans
In order to allow natural light to enter the loft, you should install a skylight window at each end, while an extractor fan at both ends provides you with good airflow and ventilation. It is possible to install a bay window, which would give you a lot more natural sunlight and the window can be opened in the summer.
Installing the floor
This is the first job; remove all the fibreglass insulation from between the joists, as you no longer wish to insulate at this level. You should put insulation behind the cladding on the walls and the roof; chipboard is ideal for the flooring; boards can be nailed onto the joists, while the water tank and pipes should also be cladded. Once the floor is installed, you have a platform on which to work. Click here for living room storage space ideas.
Access
Most homes have a small hatch to access the attic and this has to be removed, the opening expanded and a set of drop-down stairs installed for easy access. Alternatively, you could build a wooden staircase that remains in place, whichever you prefer. The steps can be lifted up when not in use and a timber cover needs to be built.
Carpet tiles
This is by far the most popular floor covering, which would be the final job of the project when everything else is finished. Your new living space can be used in many ways, it could be a study room for the kids, an extra bedroom or even a home office. Home improvements add value to a property and a loft conversion is one of the best ways to boost the value.
If you are not confident of your DIY abilities, a local builder would be happy to quote for the project and before you know it, the loft conversion will be completed, and you have extra living space.