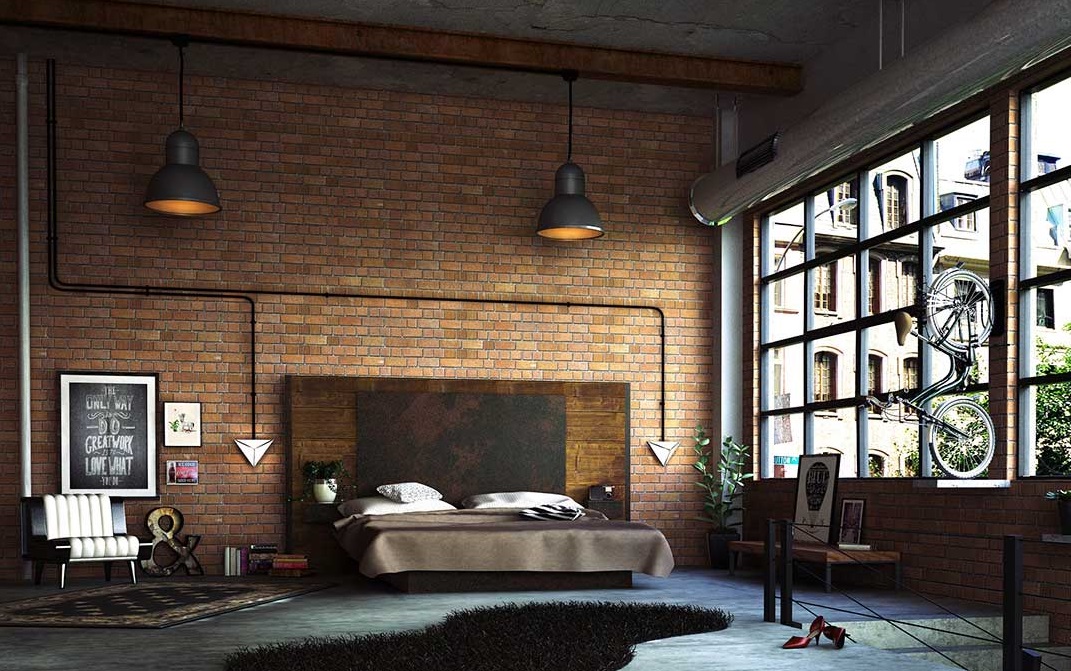 Every people would love to have a nice and comfortable bedroom. As we already know that bedroom is the place where we can rest ourselves after doing such a lot of activities. This room is very important to keep us always fit every day. But, for some people, deciding a bedroom design is quite difficult because they do not know if the design will make their bedroom looks good and comfortable. So then, let us check out the bedroom design inspiration below.
Wooden Bedroom Design
Who wants a usual bedroom if we can have an unusual one. How about a bedroom with a wooden design? It would be great if we can apply it on our bedroom. Most of the designs use everything that made from wood such as the wall, furniture until the decoration. For further details, just check out the example pictures below.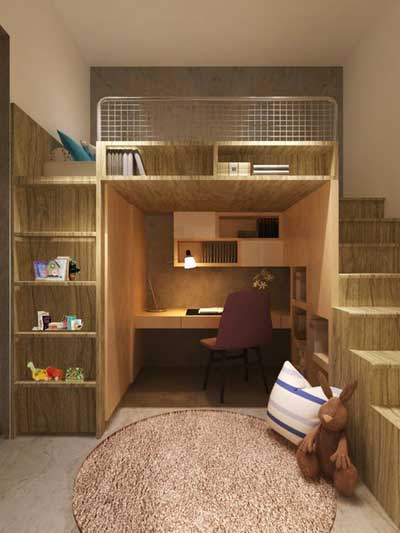 If your bedroom is so small, you can still use this wooden bedroom design. The design looks so simple and surely, it is comfortable to occupy. As we can see, the furniture like shelves, chair, and study table are made from the wood. Even the ladder to climb up to the bed which placed on the top also made from the same material.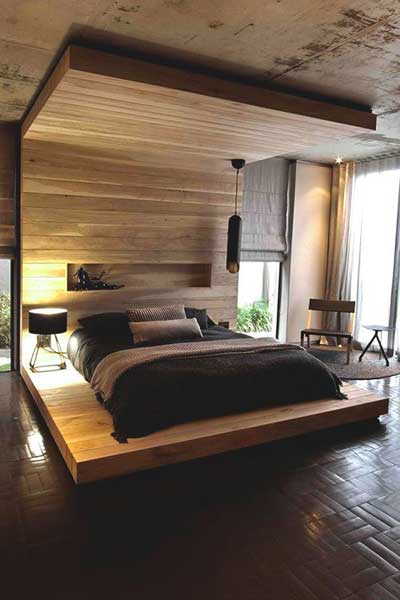 Next, we have a wooden bedroom design which has a modern display. Look at how elegant and modern this bedroom. This room uses a dark brown wooden floor and a luxurious bed which has a stunning design. The modern impression is increasingly felt with the existence of a modern night lamp and a decoration which stuck on the ceiling. It also electricity friendly as it has a lot of windows to allow the sunlight penetrate the room.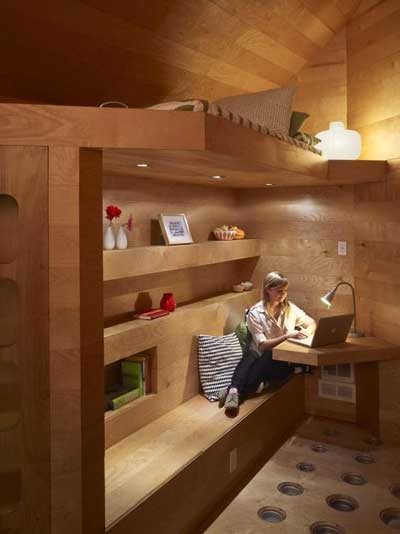 Another wooden bedroom design which has a small space. With this design, we can have a bedroom which also has a working room and relaxation room at once. From all the wooden design in this article, it uses all wooden material starting from the table, long chair, wall, floor, ceiling, and even the bed. This one would be a great bedroom to have.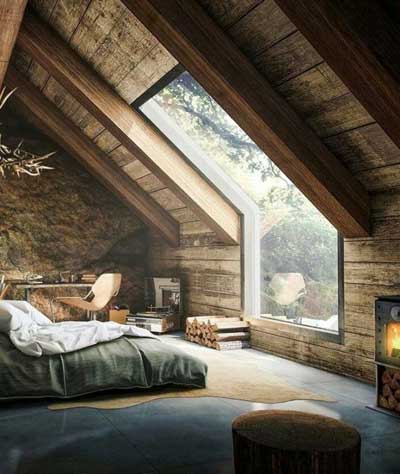 If you have a bedroom which located on the attic, you can still apply this wooden design for your bedroom, Just take a look at the picture above where it uses a wooden ceiling and furniture which brings a vintage impression to the room. Moreover, the use of a huge window which allows us to see the outside scenery. It feels like we are closer to nature.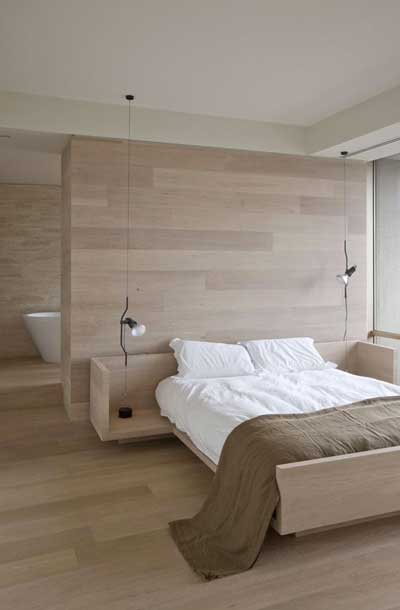 The last design prioritizes the simple display in order to make the room looks neat and clean. The use of similar color on the whole things inside the room adds more simple impression. The ceiling, wall, bed, and the floor are using the same wooden material and light brown color. And the white color for the pillows and bedsheet is really matched perfectly with the overall of this bedroom design.
Tips for a Wooden Bedroom
For the people who really want to apply this design, we can suggest not to use a furniture or decoration which made from plastic material as it will not fit the design perfectly. And then, for the use of color, we can choose a darker color like brown, black, grey, or a neutral color like white because they fit in with this design. Try to avoid a colorful one like yellow, blue, red, green, and etc because it will make our room look so weird.
Brick Wall Bedroom Design
If you have a simple, modern, or the other bedroom design, and would love to combine it with a vintage style, you can realize it now. Just try this brick wall bedroom design immediately after you have check out the examples that we have prepared below just for you. There are also 5 examples that you could use as an inspiration.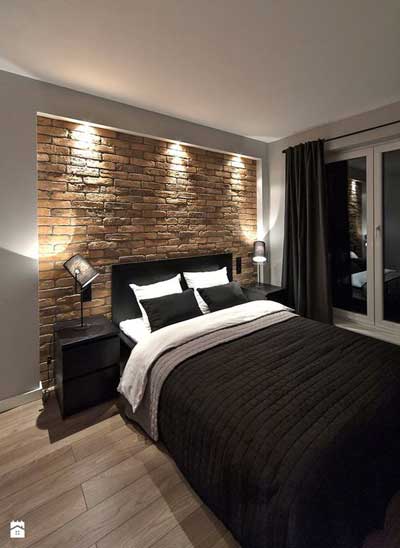 The first brick wall bedroom design uses a modern style to make it looks more luxurious and elegant. We can exactly feel the modern impression of this bedroom as it has some modern furniture and lightning that decorates this room. Just for your information that a bedroom design like this often uses a wooden floor to adjust the design.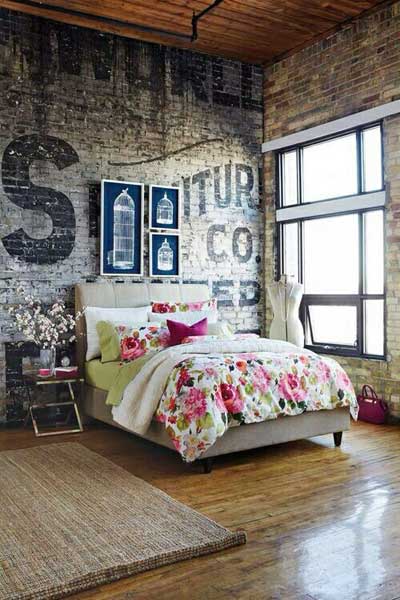 The next one is really suitable for an artist or at least the people who love art so much. If you want to have a brick wall bedroom design, but wants to add an art element inside it, we can use the idea of painting murals like this one on the brick wall itself. Then, add some old-school paintings to create a little bit vintage impression.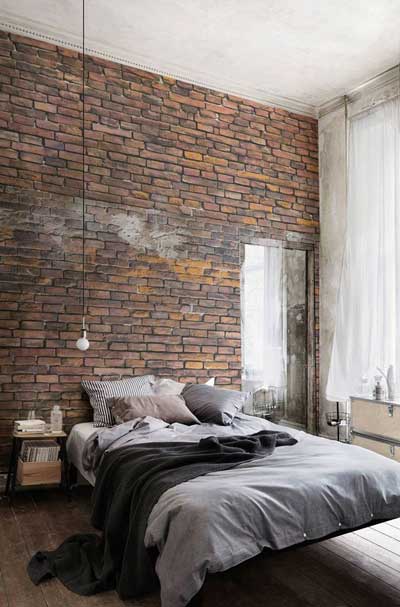 If you leave in an urban area, brick wall design is a really perfect fit for you. Like the one in the picture above which shows a bedroom design with an urban style. The furniture used, the room shape and the decorations already reflect it all. Also, a design like this is suitable enough for a bedroom which is not too spacious.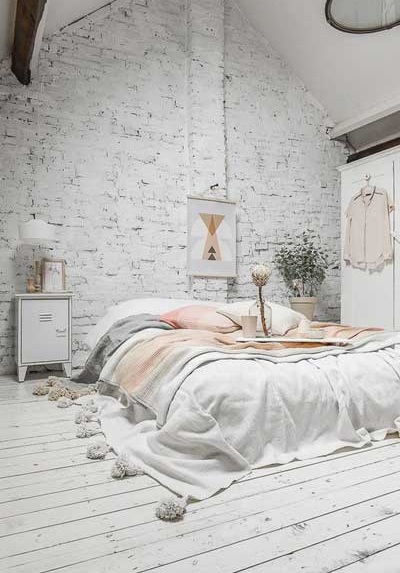 The example above also has a little bit vintage impression. The use of white color to the whole room gives a strong clean impression to the whole room. The design also quite minimalist where it is not used too much decoration or furniture in order to save more space.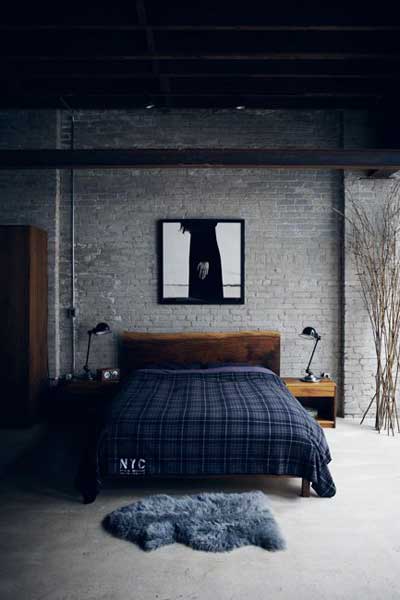 If you like a bedroom which look simple and minimalist at once, this one could be a perfect choice. Using a grey color for the brick wall and flooring makes it looks elegant especially with the combination of brown and navy blue color which matches perfectly. We sure that you will love this design a lot.
Tips for Brick Wall Bedroom
If you want to make a bedroom like this, make sure to use a furniture which made from a wooden material as it will give a more natural display to the design. Then, use a darker color such as dark brown, black, grey, or the brick color to make the design. Colorful colors are not suitable for a bedroom design like this as they will ruined the concept. Overall, it is quite similar with the wooden bedroom design.
Closing
Those are the bedroom design inspiration that we could share for today. So, which one do you prefer, the wooden one or the brick wall one? If you still confuse, better you make up your mind first before you decide it because actually both of them are really good.