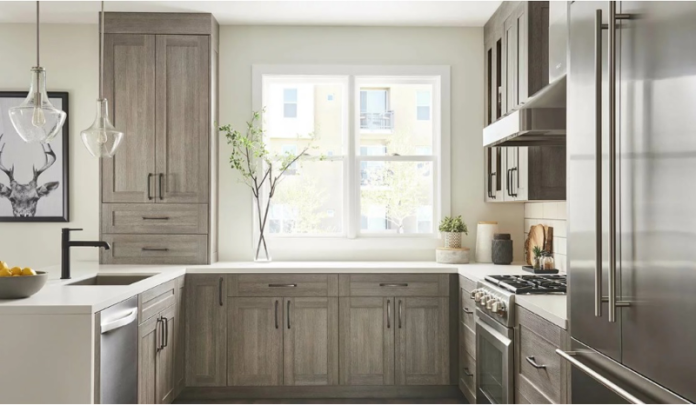 Are you planning to give the interior of your modern-styled kitchen a facelift by installing in it taupe cabinets but aren't sure whether or not they will perfectly fit? If yes, continue reading this article.
According to professional interior designers, the majority of modern homeowners want neutral colors in their kitchens without incorporating the most common color, the color white. In this regard, taupe paint is presently a very popular color choice for kitchen décor materials.
In this article, we seek to justify the compatibility of taupe kitchen cabinets with modern-styled cookhouses. Read on!
Unravelling Taupe Kitchen Cabinets
Typically, taupe cabinets come with dark-grey neutral shades that generally range from dark tan to dark-coffee undertones. Interestingly, you can find them in both dark and light shades, thanks to the versatility of taupe paint.
Based on their noticeable design variability, taupe-colored drawers come in different designs, including modern kitchen cabinet designs. Ideally, apart from the versatile attributes of their neutral shades and design variability, taupe kitchen cabinets stand out based on the following.
#1: Ability to Match All Kitchen Designs
From classic to contemporary-styled kitchen interiors, there's no kitchen interior in which taupe cabinets can fail to fit perfectly as they ought to. Because of their neutral taupe shade, these cabinets can rhyme with different bold and light colors as well as a wide range of material textures.
In modern-styled pantries, taupe-colored cabinetries are commonly leveraged as the basis for incorporating ranges of color. For classic interior design, on the other hand, taupe cabinets are valued in terms of instilling warmth and ambience into kitchen interiors.
#2: Functionality
Apart from their unquestionable agreement with all types of kitchen interior designs, taupe kitchen cabinets remarkably stand out in terms of their amazing functional attributes. Besides the ease of styling them, taupe cabinets are easier to clean and maintain, thanks to the outlook of their shades.
If you choose to go for varieties engineered from natural wood materials or stronger artificial materials like laminate materials or resilient types of fiberboard, you are more likely to use them as long as you wish provided you take care of them well as you should.
Are Taupe Cabinets Ideal for a Modern Kitchen?
As we have noted, taupe cabinets can match a wide range of kitchen designs, from vintage to post-modern fashion. The following reasons make these drawers ideal for modern kitchen designs.
1. The Need for Color Mixing in Modern Kitchens
Taupe kitchen cabinets are enjoying fame in modern interior design mostly because they can provide the needed background for mixing different colors. Regardless of whether your cooking space is defined by bolder or lighter shades or rather, mixtures of bold and lighter shades, you can let color contrast play inside it simply by installing inside it, taupe cabinets.
Therefore, because of the prominence of color mixing in the contemporary interior design industry, taupe cabinets remain ideal choices for modern kitchen designs.  Regardless of their design outlook, taupe cabinets can make any modern kitchen look outstanding by enhancing visual contrast.
2. Taupe Cabinets are Practical Cabinetry Designs
Besides the fact that they can provide a background for mixing colors, taupe cabinets are perfectly ideal for modern kitchen interiors based on their practicability. These drawers are not only easier to clean and maintain, but also to style or beautify, as we observed earlier.
Based on the latest trending modern kitchen design ideas, modern kitchens are all about practicability, from beautification to cleaning and maintenance. In this regard, because of their capability to make cooking spaces easier to use and style, taupe kitchen cabinets stand out as perfectly ideal for all modern kitchen designs.
3. The Need for Unbounded Access to Multiple Interior Design Options
In the contemporary interior design industry, trends come and go unimaginably faster. Consequently, interior designers and homeowners want flexible décor materials to conveniently alternate between trends as they come and go.
Because taupe kitchen cabinets are compatible with almost all interior designs, they can conveniently allow modern homeowners to try out different kitchen design trends as they intersperse.
How Can I Fit Taupe Cabinets in a Modern Kitchen?
Consider Incorporating Modern Industrial Accessories
One proven technique for fitting taupe cabinets, especially traditional-styled designs, into modern kitchens is by making them true to modernity. This implies giving them a sophisticated touch of contemporary beautification ware, for example, accessories crafted from metals like gold, chrome, copper, and stainless steel or even man-made materials like plastic, laminate, and glass.
Mix and Match Colors for a Cozy Interior
You can also pair taupe kitchen cabinets with mixed and matched colors to make them seem perfect for a modern-styled interior. However, you need to always work with colors that reflect your interior design preferences to achieve a desirable visual appeal. Because taupe can blend with a lot of colors, mixing and matching complementary colors in a kitchen with taupe cabinets is fun and effortless.
Here are the types of shades that you can choose to mix-match and blend with taupe kitchen cabinets for a pristine modern outlook.
Soft pastels, for example, white
Natural and emerald green
Wood tones
Neutral creams

Incorporate Natural Wood Tones for a Monochromatic Interior
If you think taupe is a boring paint color, you should see its outlook when it is paired with soft natural wood tones. As an unequaled neutral backdrop for color mixing, taupe kitchen cabinets can instill a monochromatic visual appearance in an interior when blended with the right wood tones.
Hence, if by any chance you decide to design a monochromatic kitchen interior courtesy of taupe cabinets but don't want taupe paint to feature everywhere, simply blend the cabinets with lively natural wood tones in terms of accentual features, flooring, and decorative accessories.
Final Thoughts
If you have been thinking of installing taupe cabinets in your modern kitchen, you should do so now. Taupe kitchen cabinets are in fashion and are trending as formidable backgrounds for color mixing, which is part and parcel of modern kitchen interior design. Taupe-stained cupboard designs are amazingly functional and compatible with all types of kitchens, including modern kitchen designs.