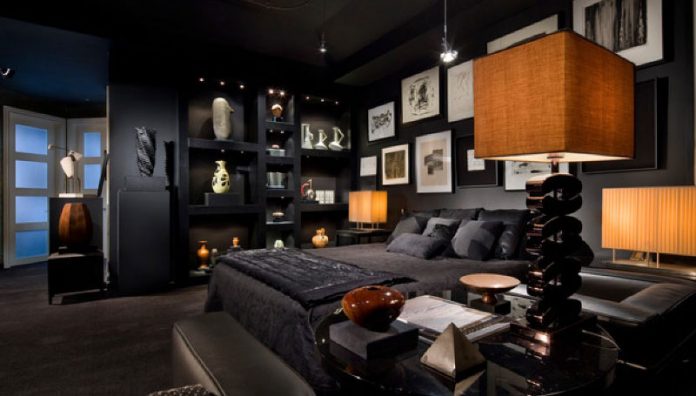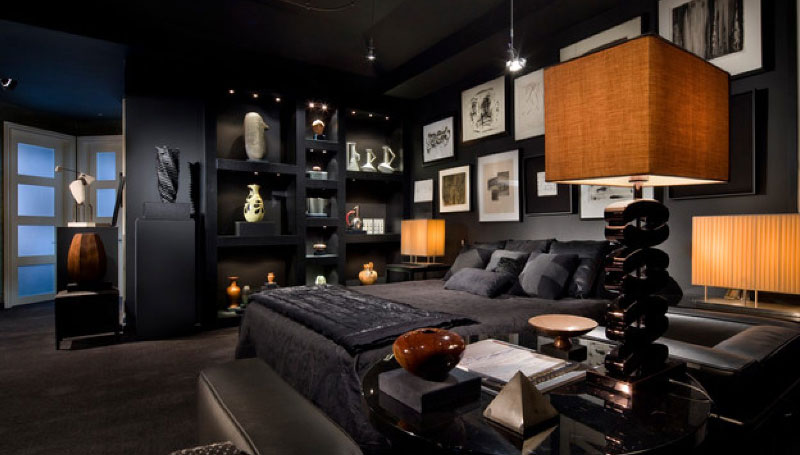 roohome.com  – For you who are men, of course, want to have a bedroom as a place as you want. As we know, the bedroom is an important place at home and this is the first place to relax and take a rest after doing the day's activities that make us tired. So that makes the bedroom feel comfortable is a thing you must do. But, for some people, it is hard to make the bedroom look like they want. Moreover, the bedroom is often associated with our own personalities.
For men, of course, will avoid things that make the room look girly and cute. And almost all men want to make their rooms look mature and masculine. Of course, in having a mature and masculine bedroom you need more references. And here, we have provided 5 New Ideas Masculine Bedroom Design. So, let's check it out!
1. Masculine Bedroom with Dear Head Sculpture
To make the room look more attractive and not look stiff, the decoration is needed. The bedroom for men certainty looks simple. So that the decoration will need only one or two.
Masculine Bedroom with Dear Head Sculpture is a great idea to make the room look cool and attractive. The dear head sculpture will give a mature atmosphere to the room. Black dear head sculpture is the best choice to keep the masculine nuance to the bedroom.
2. Masculine Bedroom with Big Horse Painting
Wall displays are needed to make the room not look stiff. And also wall displays can be used to reinforce the atmosphere of the room you want. To add and reinforce the impression of masculine and gentle, a large horse painting can be hung directly above the bed.
3. Masculine Bedroom With Wood Elements
To create a room that feels warm, wood is indeed an element that is suitable for use. This one idea is very suitable for you who live in cold climates. Do not just stare to make the room look masculine. However, still pay attention to the comfort of the room.
Dark wood can make the room feel warm while creating a masculine impression on the room. wood elements actually add the impression of an adult to a bed.
4. Beautiful Chandelier for Masculine Bedroom Ideas
Lighting indeed is needed in every room, including the bedroom. A beautiful chandelier is a great idea to add to a masculine bedroom. The chandelier makes the masculine bedroom look more elegant and mature.
For the spacious bedroom, the use of chandelier will affect the look of the bedroom. Sometimes a large room will look stiff if there are only a few items. As we know, men really don't like to use a lot of things in their room. So that chandelier for masculine bedroom idea can be applied for you who have a spacious bedroom.
5. Masculine Bedroom with Big Window Idea
A dark room will feel crowded if not given light. Using light alone is not enough. The black room will need sunlight to make the room feel comfortable and not dark. So, a masculine bedroom with a big window is a great idea can be applied to your bedroom.